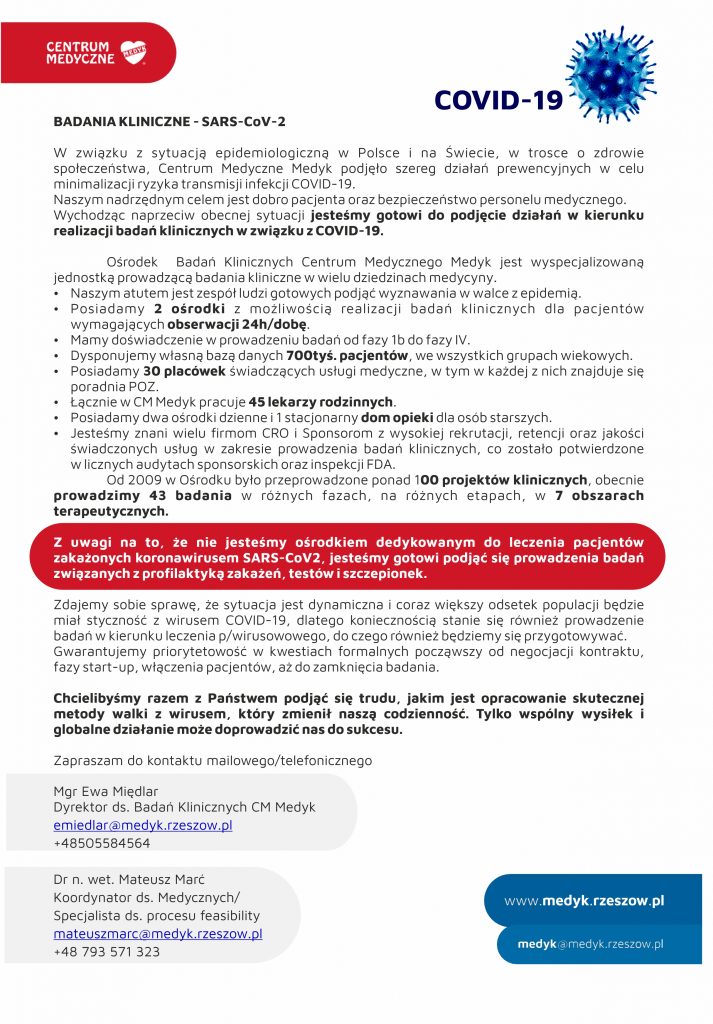 News
---
The Clinical Research Center is a R&D organization operating as a part of the MEDYK Medical Center
The center's goal is to participate in international clinical programs of new and innovative drugs, molecules and medical equipment. We have experience in conducting phase I / II, II, III, IV clinical trials, observational studies and international registers.
We offer the possibility of conducting clinical trials on an outpatient and hospital basis requiring hospitalization of the patient.
The center, in cooperation with the scientific staff of the Medical Faculty of the University of Rzeszów, creates clinical research reports and implements its own projects.
Since 1999, we have been organizing and conducting clinical trials in cooperation with pharmaceutical and monitoring companies; local offices responsible for drug safety, conducting clinical trials and drug registration.
Between 2009-2018, more than 93 clinical trials were conducted, in which over 1,000 patients participated. The center provides services to around 250 patients participating in clinical trials monthly.
Since 2011, we have been designated as a partner center for the international company IQVIA (Quintiles), which conducts and monitors clinical trials in Poland and abroad.
In order to ensure the highest quality of clinical trials,, all activities related to the organization of work and conducting clinical trials are regulated by internal, constantly adapted operating procedures / SOP – Standard Operating Procedures /, ISO 9001: 2015.
In March 2019, the center underwent an inspection by the U.S. governmental institution FDA (U.S. Food & Drug Administration) with a very good result NAI (No Action Indicated), which means that during the inspection no objectionable conditions or practices were found.
https://www.accessdata.fda.gov/scripts/inspsearch/results.cfm
Our Researchers
We choose experienced Researchers – specialists with the highest professional qualifications and clinical experience to conduct research.
Our programs are conducted with special care and compliance with the principles of Good Clinical Practice. We follow the set of rules created by the World Physicians' Association, putting the good of research participants first. We meet all local (European) as well as international ethical and legal aspects in this area.
In order to ensure the reliability of data obtained as a result of clinical trials and to protect the good and rights of participants, 6 people from our Center completed the first edition of the post-graduate studies "Clinical Research – Organization, Conduct with Management Elements" organized by the Medical University of Lublin in cooperation with Quintiles Poland Sp . z o.o. under the patronage of the Lublin Medical Chamber.
Therapeutic fields
Anesthesiology
Pain Treatment
Opioid constipation
Dermatology
Psoriasis
Atopic dermatitis
Gastroenterology
Crohn's disease
GERD
Fatty liver
Ulcerative colitis
Internal Cardiology
Diabetes
Lipid disorders
Atrial fibrillation
Heart Failure
Diabetic nephropathy
Aesthetic medicine
Nephrology
Neurology
Alzheimer's disease
Pompe disease
Epilepsy
Multiple sclerosis
Opthalmology
Pulmonology
Chronic obstructive pulmonary disease
Asthma
Urology
Urinary tract infections.
Urinary incontinence
Neurogenic bladder
Frequently Asked Questions
What is a clinical study?
A clinical trial is a medical study, conducted to answer questions about the efficacy, safety and optimal dose of a new potential drug.
While some studies take several weeks, others may be conducted over a longer period of time..
Information from patients provides important insights regarding diseases and new drugs.
All drugs must be tested in clinical trials before being approved for use.
If you participate in a clinical trial, your health will be closely monitored by a team of doctors and nurses
Who can participate in a clinical study?
Each clinical trial is conducted according to strictly defined principles that regulate participation in the study. Inclusion criteria – factors that allow a person to take part in the study – and exclusion criteria – factors disqualifying the candidate from participating in the study – are set out in so-called clinical trial protocol.
These criteria can be based on parameters such as age, sex, type and stage of the disease or its current course.
The final decision about the patient's participation in a clinical trial belongs to the doctor.
What is the benefit of clinical studies?
Clinical trials are a prerequisite for introducing new therapies and medicines
Modern medicine is constantly evolving, but despite the enormous knowledge of diseases and many drugs available, in some cases doctors are helpless in dealing with diseases, so it is necessary to develop substances that can treat them.
Who agrees to conduct the clinical trial?
Independent Bioethics Committee.
Minister of Health – at the request of the Office for Registration of Medicinal Products, Medical Devices and Biocidal Products.
Benefits and risks of clinical study participation
Benefits
Clinical trials that are well planned and well carried out are an opportunity for properly selected participants to:
Play an active role in taking care of your own health.
Gain access to new treatments before they become publicly available.
Receive specialist medical care using the highest class medical devices during the study period.
Help others by contributing to medical progress.
Risks
There may also be some risk to clinical trials:
There may be unpleasant, serious or even life-threatening side effects of treatment.
Treatment may not be effective for the participant.
A protocol-based study may be more engaging and require more attention from the participant than traditional treatment.
WHAT TO TAKE INTO ACCOUNT WHEN TAKING A DECISION TO PARTICIPATE IN A CLINICAL STUDY.
Before starting clinical trials, get as much information as possible to help you make informed consent decisions.You may want to ask following questions:
What is the purpose of the study?
Who will participate in the study?
What are the possible risks, side effects and benefits of participating in the study compared to my current treatment?
Will participation in the study affect my daily life? If so, what will the impact be and how long will it last?
Who will pay for the new therapy?
Can I get a refund of expenses related to participating in the study?
How do I know that experimental treatment works?
Will the test results be shared with me?
Who will be responsible for my care?
Talk to your doctor before making a decision about participating in a clinical trial.
CONSENT FORM
The patient agrees to participate in the clinical trial by signing the informed consent form
Please read and understand the informed consent form before signing. In case of any ambiguities, ask questions.
Contact
---
MEDYK Medical Center
ul. Fryderyka Szopena, 35-055 Rzeszów
e-mail: badaniakliniczne@medyk.rzeszow.pl
tel. +48 17 861 30 73, +48 505 584 564
fax: +48 17 861 30 72
TO MAKE AN APPOINTMENT, PLEASE CALL CONTACT +48 507 026 090