The outpatient clinic is run by:
---
Agnieszka Mamora, MA –– clinical dietitian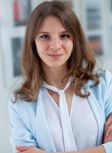 Master of Science dietetics, clinical dietitian, academic teacher at the Faculty of Medicine at the Department of Public Health, Dietetics and Civilization Diseases in the field of Dietetics. Promoter of nutritional knowledge, co-organizer of numerous events and health-related events. Guest of cyclical programs in the field of preventive medicine on Radio Rzeszów. As a part of volunteering, she conducted educational classes in diabetes at the 2nd Department of Pediatrics, Endocrinology and Pediatric Diabetology. She also gained professional experience educating patients in the BETA-MED Private Health Care Center and in NZOZ RUDEK rehabilitation clinic. In 2018, she was honored for special merits by the Regional Diabetic Association. In addition to working in the clinic and at the University, she publishes her own research in scientific journals, among others, "Studies and Materials," Family Medicine "," Public Health Forum "and others. She also cooperates with local newspapers such as "Nowiny Daily" and "Super Nowości Daily".
Selected science publications:



Momora. A., J. Kinal, "Selected compounds found in food. Anti-carcinogenicity and health-promoting effects on the cardiovascular system – current state of knowledge. Social aspects of health. Selected Issues.". 2017 – monograph
Momora A, Mazur A, Dereń K. "Evaluation of food offered in schools and bought by students in Rzeszów."
Eur J Clin Exp Med 2018; 16 (3): 209–219
Momora A., Krupa J. "Eating habits of pregnant women living in rural areas." 
Pediatrics and Family Medicine 2/19
Momora A., Krupa J. "Eating habits of people working in shifts."
Studies and Materials. Faculty of Management University of Warsaw 6/2019
M. Skrzypek, A.Momora, R. Krzyszycha,  "Indeks i Ładunek glikemiczny diety z perspektywy kardiologii prewencyjnej–aktualny stan wiedzy, wybrane" Polish Journal of Public Health. 2019
A. Momora, J. Krupa "Znaczenie i zastosowanie diety niskosalicyanowej." Public Health Forum. 2019
A. Momora "Wtórne wykorzystywanie żywności w gospodarstwach domowych w opinii respondentów." Pomeranian J Life Sci. 2019
Momora. A. "Wybrane rośliny jadalne charakterystyczne dla mezoregionu Pogórza Dynowskiego -żywiec gruczołowaty, żywokost sercowaty, czosnek niedźwiedzi." Wydawnictwo Politechniki Rzeszowskiej. – monografia"
Małgorzata Soroń, MA – clinical dietitian
Graduated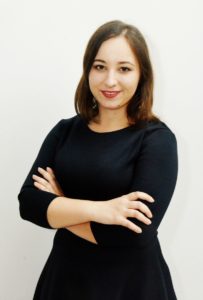 from the Bachelor's degree in Dietetics and attending master's studies at the University of Rzeszów. She chose this field to help people and her patients achieve their goals. This has become great passion of her, as evidenced by many completed courses and conferences, as well as the chairmanship of the Scientific Circle of Nutritionists at the University of Rzeszów, which has developed a lot in the last two years. She has a very high sense of mission to support patients with relevant knowledge, consistent with previous scientific research. She ran and organized conferences, course on healthy eating, "Cook with Dietician", Health and Sport Weeks and created mobile applications with the menu function, she also runs her own research.
We are characterized by a comprehensive approach to the patient, taking into account all customer preferences.
The clinic offers comprehensive nutritional counseling:
Body composition analysis using a professional medical scale (fat, muscle and total water content).
Diet prevention of civilization diseases.
Diet therapy in all diseases entities (including diabetes, obesity, atherosclerosis, food allergies).
Effective weight reduction.
An individual diet for each patient.
Nutrition Education.
Psycho dietetic support.
The analysis of the mass composition of the gun is performed on the In Body 270 analyzer, which takes into account REAL MEASURMENT nd not empirical data such as age, gender or body structure (entered before performing analysis). Other analyzers do not include real measurement, but only estimates, therefore, provide data close to real values of average people, but not elderly people, athletes, non-athletic men or children.
MEDYK Medical Center diet clinic actively participates in promotional and training campaigns, and actively participates in diabetic meetings on the first Wednesday of the month at al. Tadeusza Rejtana 53.
Opening Hours
---
     Day of the week

            hours
Person
    Monday
            7:00 – 20:00


Agnieszka Momora

    Tuesday

          10:00 – 20:00


Małgorzata Soroń

    Wednesday
            7:00 – 20:00


Agnieszka Momora

   
Thursday

            7:00 – 13:30




          13:30 – 20:00

Agnieszka Momora

 




Małgorzata Soroń

    Friday

            7:00 – 15:30

Agnieszka Momora
Contact:
---
al. T. Rejtana 53
35-326 Rzeszów
phone.: 533 349 012; 17 865 20 02